Lotto: Not won
Numbers drawn: 5, 10, 22, 29
3 x €20 winners: Card Players, Bernie Burke, Aoife McPhillips
Next week's jackpot: €1,900
Seller's prize for September: Paddy Kelly Snr
If you wish to join our prepaid lottery please contact Emer Lynch (086) 3583455 or Ann Gilsenan (087) 2875070.
Stars in Their Eyes!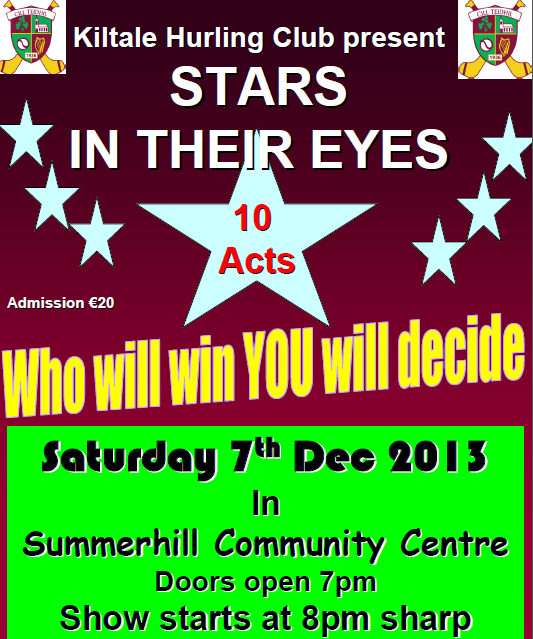 Kiltale Hurling Club will host 'Stars in Their Eyes' in Summerhill Community Centre on Saturday 7th Dec at 8pm. Tickets (€20) can be purchased from any committee member or from any of the ten acts. Each act will perform one song and before the final ten are whittled down to three – you the audience and the judges will decide who will win. Entertainment during and after the event will be provide by Mal Reilly. A Facebook page will be active in the coming days. All information on the event and the progression of each act will be posted.
Bingo
Bingo will resume in Kiltale Club House on Tuesday 15th Oct at 8.30pm sharp – all are welcome.
Garda clinic
A Garda clinic is held in Kiltale Clubhouse every Monday from 2pm-4pm.
All business that you would need to go to a Garda station for will be carried out at this clinic.