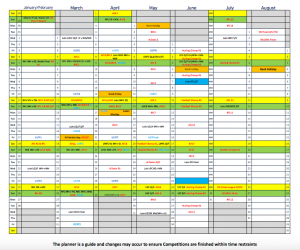 Please see below note from Meath CCC with regard to the attached Meath GAA Planner for Jan-Aug 2017.
A Chairde, attached is the 1st Fixture plan for 2017. You can download a copy here.
It runs from January to Early August which CCC An Mhí have worked on in conjunction with Coiste Fé 18 (re U17 to U19) and this plan was ratified by CCC An Mhí 10/1/2017.
We would ask that the following points are noted.
Preliminary, Round 1 & 2 of Knock Out Football Cups on first three weekends to start year off.
Four AFL games scheduled in February/March. Two certainly or possibly three of the four will allow Clubs access to County Football players.
No Football Championship in April. This is to cut out the uncertainty of when Clubs start the Championship. If we attempt the normal April start and should Meath make NHL Final (1st April) the NFL Final (9th April) or U21 Semi Final (15th April) all our best laid plans are shrouded in ifs, buts and maybes.
CCC An Mhí feel it is essential that Club players can look at this and with almost 100% certainty say we will play 1st Round of Championship on Week ending 21st May.
Hurling Championship are scheduled as always when Meath play Leinster SFC Quarter Final.
The plan we feel gives for the first time a detailed laid out seven-month schedule until 2nd August for 3 rounds Football and Hurling Championship. 13 Rounds A League, 7 Rounds Hurling League and 9 Rounds BFL. It also covers Knock Out in both Football and Hurling dates.
Please note 12 dates are given to B League while 9 are all that is needed. This is to arrange around the Divisions where 10 players are named and also the Dual Club scenario where at times B League are scheduled around Hurling League dates.
Certain weekends early in the year will see A & B Football Leagues but this is a system used in the Hurling Leagues each year which no problems reported.
Coiste Fe 18's U-17 Football (no impact on adult) is included
The new U19 Football League are given dates to encourage club participation and are planned not to clash with A or B League Football.
Minor Hurling Leagues also given dates with no clash with Adult Hurling.
CCC An Mhí earnestly request co-operation from the Clubs and that all major Club Dates and Events are notified to the Runaí in writing as early as possible in the year but that at least 4 weeks notice is given to enable CCC to do what we can to facilitate Clubs on fixture's as the stance will be taken once again that once a Fixture is made "IT WILL STICK".
CCC An Mhí wish all our Clubs the very best on and off our sports fields for 2017.