Lotto: Not won
Numbers drawn: 12, 21, 28, 30
3 x €20 winners: Regina Heslin, Adam Bannon, Angela O'Toole
Next week's jackpot: €5,100
Our thanks to all who have recently join our prepaid lotto, or who have started to purchase it weekly. All funds are needed and we are most grateful to all who enter and who sell tickets on our behalf.
If you wish to purchase prepaid Lotto for 10, 20 or 52 weeks, contact Ann Gilsenan at 087 2875070 or Emer Lynch at 086 3583455. As this is the main income which the club use for the running of the club we would ask you to please support.
As you will read below, the club are thriving on the field and we must keep hurleys, sliothars etc. in supply. You can buy tickets on a Friday night at underage training, behind the bar in the clubhouse, or prepaid at the numbers above.
Fixtures this week
Sunday 23rd September – Meath SHC semi-final – Kiltale v Ratoath – venue Páirc Tailteann, venue 3:30pm
Another day of calling for the 16th man/woman to support the lads with your maroon jersey or top – the club is grateful to you all for the continuing support to all the teams and club development.
As a unit the club strives with all of your support – so we ask you all to head to Navan on Sunday and give the club and team your continuing support!
Healthy Club talk
As part of Kiltale's Healthy Club initiative, health coach Mary Conway will deliver a presentation on Friday 21st September at 7.45pm in Kiltale Clubhouse to all juvenile players at the club, in both hurling and camogie, from u15 right up to under-21 grade. The club are asking parents to encourage their children to attend and parents are also invited to attend.
Development work at Kiltale GAA Pitch
Dressing Room 4 – The New Gym: Walls are now ready for skimming
Dressing Room 2 – Floor ready for addressing
Dressing Room 1 – is still available for visiting teams if required
Dressing Room 3 – Work will begin once all items in it are taken out and stored
Outdoor Shed – Thanks to volunteers in the club, the first part of the roof on the shed is complete. The remainder will be done by October 1st to allow the doors to be installed.
A huge note of thanks must go to FAS for their work on this project.
NOTE:  To those that have contacted Dom Reilly 0862132288 or Paddy Kelly 0868282458 to assist thank you but we need more help.  So if you can make the call to Dom or Paddy you will be given a timeline and allocated work
What is included in the works?
New flooring in all dressing rooms and hallway of the dressing rooms
New shower and toilet facilities
Repair to roofing in dressing rooms/clubhouse
Upgrade water and heating to accommodate dressing rooms/clubhouse
New Gym
Meath GAA 'Royal House' Draw
Coiste na Mí CLG have unveiled a major fundraiser to help bankroll the redevelopment of the county grounds at Páirc Tailteann – a draw in which three lucky ticket-holders will win a 3-bedroom semi-detached house! 
All the funds raised will go towards Phase 1 of the Redevelopment of Páirc Tailteann, which includes a 4,000-seater stand, an extension to the pitch, and the installation of new floodlights.
There are three draws over the next 18 months, with the first prize in each as a new home in the new Cois Glaisin development, constructed by Glenveigh homes, worth €275,000!
There will also be runners-up prizes – second place will win €10,000; third will take €7,000, fourth will win €5,000, and there will be six prizes of €1,000 each.
The tickets for Draw 1 are €100 each, which can be purchased through GAA clubs or online at royalhousedraw.com. The payment online can be upfront or in instalments. There's also an Early Bird option where patrons can enter all three draws, at a discounted price of €250. This option is open until October 31st and payment can be in paid in instalments online.
Meath GAA Clubs will be rewarded financially for any ticket sold by or through the club – taking 15% of the cut for the first hundred tickets, 25% for the next hundred, and 40% for tickets sold beyond that.
Kiltale Hurling Club would ask you to nominate Kiltale as your club if purchasing online. If you would prefer to pay in cash, a night will be arranged shortly where members can visit the clubhouse and offer cash payments to enter.
See further details at: http://www.royalhousedraw.com/.
Online store
The club's online store at ONeills.com has been refreshed with some all new merchandise! Be sure to visit at https://www.oneills.com/shop-by-team/gaa/ireland/kiltale-hurling-club.html.
Support the Clubhouse
A huge thank you to Martin Forde the staff of Forde's Superstore, Mullagh, Kilcock for their kind and generous contribution to the clubhouse by installing two new pellet stoves.  This is very much appreciated by all concerned.
Friday 28th September – LIVE at Kiltale Clubhouse – BIG GENERATOR at 9pm – tickets €10 from the bar
Don't miss a great night's entertainment from one of the country's best-loved live bands!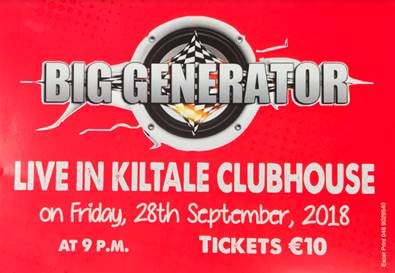 – Check out The Clubhouse Facebook for Entertainment at weekends –
Contact Carmel Bennett – 086 3770763.
The clubhouse is a very important facility in our parish and always needs support. Like other clubs we don't want to know what it is to be without it. Drop in for a drink or an ESSENCE Coffee or think about using the facility for a party or meeting.
We appreciate your support and value the custom you all give.
~Don't forget to follow Kiltale Hurling & Camogie Club, and the Kiltale Clubhouse, on Facebook! ~