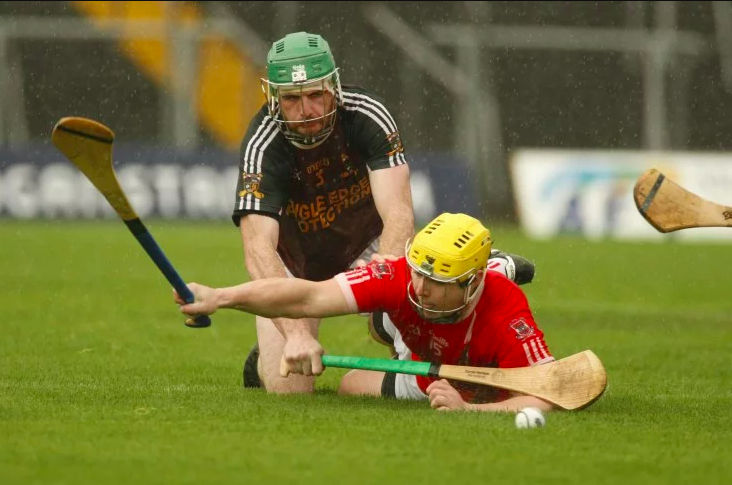 Kiltale's quest for six is still on course following this thrilling win over Trim in the semi-final at rain-soaked Pairc Tailteann on Sunday afternoon.
Kiltale …… 3-16
Trim …….. 3-14
A game that will be remembered for its dramatic second quarter and how the champions responded. Later as Trim pressed to maintain their Jubilee Cup bid, Kiltale were resolute in defence after a shaky first-half.
Kiltale led by 3-9 to 3-6 at the break after a first-half played in damp conditions that led to errors on both sides.
The champions responded well when pressurised and a strong rearguard action with full-back Phillip Garvey impressing along with sub Brian Reilly they leaked no further goals. The latter did well after the break to curb Trim's top scorer Brian Dowling.
Following a first-half that yielded 21 scores including six goals, the second-half produced 15 scores, all points. Despite the drop in scoring rate, the contest developed.
Kiltale moved seven clear on two occasions in the third quarter. However, Trim did not fold as they did in last year's final. They managed to keep the champions scoreless from the 45th minute.
As they did in the quarter-final win over Ratoath, Trim finished strongly posting four unanswered points in the last quarter when a downpour soundtracked the contest.
Just four points separated the teams in the 56th minute when James Toher was narrowly wide with a free from midfield. That was to prove crucial as six minutes of stoppage time unfolded.
Neil Cole's men might have forced extra time if that aforementioned free had gone over. Overall, Kiltale appeared the fitter team and were able to hold their strong young challengers at bay.
Impressive indivual scoring performances were headed by Trim's Brian Dowling who scored 1-10, that included six frees. For Kiltale, Mark O'Sullivan led the way wth 2-3 from play. Jack Regan pitched in with eight points (six frees).
The opening 13 minutes gave no indication of what was to unfold in the second quarter. The champions opened with intent to finish the contest early. With James Reilly driving them forward from wing-back Kiltale led by 1-5 to 0-1 before the opening quarter passed.
Ross Ryan might have had a second goal for Kiltale in the early stage but the Jubilee Cup holders looked good.
Like a bolt from the blue, Trim were revived by Alan Douglas' 14th minute goal with assistance from Neil Heffernan. Kiltale still led by double scores, but that four-point deficit was eradicated four minutes later.
A long James Toher delivery was played by Brian Dowling to Heffernan who netted to tie the scores for the first time, 2-2 to 1-5, with 18 minutes gone.
It set the tone for the remainder of the half. Points from Regan (free) and Mark O'Sullivan moved Kiltale two clear. Trim responded with their third goal, in the 22nd minute when Dowling netted with help from Ian Bermingham.
That left Trim ahead for the first time, 3-2 to 1-7. Regan (free) and Alan Douglas swapped scores. Kiltale outscored Trim by 2-2 to 0-4 over the remainder of the half. The town side were chasing the game thereafter.
The crucial scores in that sequence arrived around the 26th minute with Mark O'Sullivan netting for Kiltale before assisting Fearghal McCabe for his three-pointer. Those scores proved crucial to the outcome.
Kiltale – Shane McGann; Iarla Hughes, Phillip Garvey, David Donoghue; Stephen Donoghue, Ronan Ryan, James Kelly; William Mahady, Padraig Kelly (C); Mark O'Sullivan (2-3 ,Cathal McCabe (0-1), Jack Regan (0-8, 6 fs); Adam Murphy, Fearghal McCabe (1-1), Ross Ryan (0-1). Subs – Brian Reilly for D Donoghue (ht), Peter Durnin (0-2) for Murphy (ht), Conor Shirren for Garvey (bs 41-46), Chris Reilly for McCabe (53).
Trim – Charlie Ennis; Mikey Cullen, Gerard Dwane, Ryan Andrews; Sean Magee, James Toher (0-1 f2, David Murtagh; Diarmuid Higgins, Dylan Farrell; Conor Quigley (0-1), Damian Magee, Ian Bermingham; Brian Dowling (1-10, 6fs), Alan Douglas (1-1), Neil Heffernan (1-0). Subs – Ciaran Joyce for D Magee (17), Ciaran O'Rourke for Murtagh (28), Luke Moran for R Andrews (49), Mikey Cole for Bermingham (54)
Referee – Killian Jones (Kilcock)