Meath Senior Hurling Championship quarter-final: Kiltale 1-23, Dunboyne 3-17
30 August 2010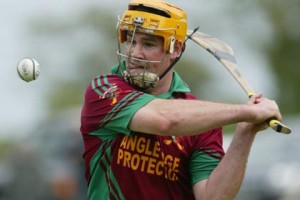 Kiltale and Dunboyne have to do it all again next Saturday at 4pm in Trim after the sides finished level after extra time.
This was an evenly contested match all through and at different stages it looked as if one particular team would go on to win the game.
Kiltale hit six wides in the opening ten minutes after they launched several early attacks at the Dunboyne defence.
Dunboyne opened the scoring with two frees from Niall Hackett but Kiltale replied with scores from Peter Durnin and Brendan Dixon.
The turning point if the first half came when Neville Reilly latched on to a ball after confusion in the Kiltale defence to finish to the net to put Dunboyne ahead by four points.
The best score of the day came when Stephen Donoghue caught a high ball and hand passed to brother John who hand passed to Mark O'Sullivan who hand passed to Brendan Dixon who passed on to James Kelly who finished to the net.
Kiltale scored two more points to leave them ahead by one point at half time.
The second half was very tight and it was hard to say which team looked likely to win.
Peter Durnin was on top form for Kiltale but Dunboyne got a crucial goal from a penalty after Niall Hackett was pulled down going through and he converted the penalty to put Dunboyne in the driving seat.
Kiltale players John Donoghue and Mark O'Sullivan came more into the game and O'Sullivan was proving a real handful for the Dunboyne defence and he hit three lovely points from out on the terrace side of the field.
Durnin levelled the game with a free for Kiltale on full time.
In extra time Kiltale got off to great start going into a three point lead and when Mark O'Sullivan rounded Paul Fagan a goal looked a certainty but he blazed over the bar as Reilly advanced from the Dunboyne goal.
Kiltale seemed to be in the driving seat after James Kelly hit a further point but Dunboyne stormed back into the game with a goal from Niall Hackett.
Dunboyne then took control again and thanks to some fine saves from Shane McGann in the Kiltale goal extra time finished in a draw.
Great credit to both teams for a very enjoyable game.
Donal Smith has to be congratulated on the manner in which he let the game flow and he contributed to one of the most entertaining games of this year which made supporters feel that the got some value for their entrance fee.
Match report from HoganStand.com.