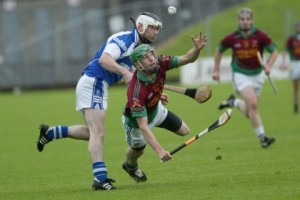 SHC: Kildalkey 2-16, Kiltale 2-13
There was just one score in it as Kildalkey overcame Kiltale in this thrilling Ted Murtagh Clothing & Footwear SHC Group A round two fixture at Pairc Tailteann on Saturday.
There was an exciting finale that included a brief outbreak of unpleasantries after Kildalkey 'keeper Conor Flynn bravely saved a Peter Durnin goal attempt from a 20-metre free.
The result was the sendings-off of Kildakey's Maurice Keogh and Kiltale's Anthony Forde with the hour almost up.
Flynn was replaced in goals by midfielder Sean Corrigan, who in the prolonged period of stoppage time, did well to stop two further goal attempts by Durnin as Kildalkey recorded their second win of the campaign.
The game seemed to be going away from Kiltale – who lost to Kilmessan in round one – when Derek Doran goaled at the hospital end in the 40th minute to leave it 1-14 to 1-8 to Kildalkey.
Within two minutes Kiltale had the gap down to the minimum with a Durnin goal followed by points from substitute Cillian O'Sullivan and Jack Regan (free).
Kildalkey were soon five points to the good again with Fergus McMahon's 46th minute goal completing the scoring burst.
Kiltale outscored Kildalkey by 0-3 to 0-1 in the latter stages with James Kelly pointing twice. However, last year's beaten semi-finalists couldn't get any close to the Jubilee Cup holders.
The scores were tied twice in the opening four minutes after Regan pointed Kiltale in front inside 60 seconds.
Points from Dan Fagan and Paddy Conneely had the champions in front for the first time before a Regan free levelled matters again.
Kildalkey kicked-on with three points on the spin from Sean Heavey and Derek Doran (two) to lead by 0-5 to 0-2 after 10 minutes.
Two Durnin points from play helped Kiltale eat into the deficit as the mid-point of the half approached.
Kiltale got a big break when Kildalkey 'keeper Conor Flynn failed to collect a long delivery and James Kelly forced the sliotar to the net.
Kiltale were back in front 1-4 to 0-6. Kildalkey responded positively and regained the lead through Sean Heavey (sideline cut) and Tony Fox.
Kildalkey shaded the exchanges in the run-up to half-time posting the final three scores before the break through Heavey and two Paddy Conneely frees.
They could also have conceded a second goal when Flynn failed to collect a long delivery but John Donoghue's follow-up was wide while Kildalkey went on to lead by 0-11 to 1-5 at half-time.
Kildalkey – C. Flynn; C. Dunne, S. Forde, D. Lahart; M. Keogh, E. Keogh, M. Doran; S. Corrigan (0-1), T. Fox (0-1); F. McMahon (1-0), S. Heavey (0-3, 1 sl), P. Geoghegan; D. Doran (1-1), D. Fagan (0-2), P. Conneely (0-8, 7fs). Sub – F. Doran for Flynn (60).
Kiltale – S. McGann; A. Donnelly, P. Donoghue, C. Ennis; A. Forde, W. Mahady, D. Donoghue; C. McCabe, P. Garvey (0-1); J. Donoghue, S. Donoghue, J. Kelly (1-2); J. Regan (0-5, 3fs) P. Durnin (1-2), M. O'Sullivan (0-1). Sub – C. O'Sullivan (0-2) for McCabe (17).
Referee – R. Morris (Blackhall Gaels)
Match report from HoganStand.com.