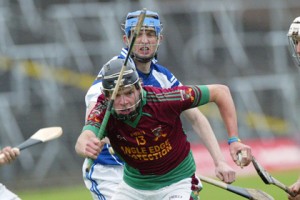 SHC: Kiltale 2-20, Na Fianna 2-7
Kiltale started the stronger and pulled away from Na Fianna with 20min into the match. A goal coming from corner back Anthony Donnelly in the 15min.
With very few frees given away from either sides the free takers were under no pressure. Kiltale we well ahead at half time but Na Fianna tried hard and tagged on 2 goals in the second half. With some mis-catching and bad clearance from Kiltale goalie assisted in the Na Fianna goals.
Scores: Peter Durnin 1-6, Jack Regan 0-7 (0-6f, 0-1 45), Anthony Donnelly 0-1, Mark O'Sullivan and Stephen Donoghue 0-2 each, Cillian O'Sullivan, Padraig Donoghue, James Kelly 0-1 each.
Kiltale team: Shane McGann, 2. Anthony Donnelly, 3. Willie Mahady, 4. Ciarian Ennis, 5. Cathal McCabe, 6. Padraig Donoghue, 7. David Donoghue, 8. John Donoghue, 9. James Kelly, 10. Stephen Donoghue, 11. Sean Dunleavy, 12. Mark O'Sullivan, 13. Cillian O'Sullivan, 14. Peter Durnin, 15. Jack Regan.
Match report from HoganStand.com.