Lotto: Not won
Numbers drawn: 14, 20, 21, 30
3 x €20 winners: Thomas Cummins, Ronan Kelly, Angie
Next week's jackpot: €2,900
We ask all members to please support the club Lotto. Tickets can be purchased in the Kiltale Clubhouse or shop. If you wish to join our prepaid lottery please contact Emer Lynch (086) 3583455 or Ann Gilsenan (087) 2875070. 
2016 Moynalvey and Kiltale Golf Classic
This year Moynalvey GFC & Kiltale Hurling Club are joining forces to host a Joint Golf Classic in Rathcore Golf Club this Friday, 5th August.

You can support the clubs by:   
– Entering a team of 4 for €280 including meal,
– Tee box Sponsorship
Tee times may be booked by contacting John Donoghue (087 6756884). Tee Box sponsorship can also be given to John.
Both Moynalvey GFC and Kiltale Hurling Club look forward to your support and another great day out this year in this joint venture by the clubs!
Visit our new online club shop!
We now have our own specialised Kiltale Hurling Club store at the O'Neills website for you to get all your branded gear! Visit the page any time at https://www.oneills.com/shop-by-team/gaa/ireland/kiltale-hurling-club.htm .
Cúl Camp 2016
Kiltale's hurling Cúl Camp will take place from August 8th to 12th. €55 for one child, €45 for a second child and €40 for third and subsequent children.
Places can be booked online at https://www.kelloggsculcamps.gaa.ie/ – more details from Dudley Farrell at 087 9033789.
Topaz 'Cash for Clubs'
If you get your petrol or diesel in Topaz there's now a way for you to support the club while you do so! With every €30 you spend there you'll be given one 'Cash for Clubs' token – just write Kiltale's name on it, leave it in the box, and if we get enough we could be entered into a draw for €10,000!
You can also sign up online at playorpark.ie to automatically donate your tokens to us. Every little helps – thanks for your help!
Not-so-Strictly Come Dancing – contestants needed
The club's major fundraiser for 2016 will be Strictly Come Dancing – which will take place on Saturday 3rd December in Trim GAA Centre.
A dance and choreographic teacher have now been selected, so now it's up to the dancers…
An event will be held in the coming weeks to give information to any interested.
Support the Clubhouse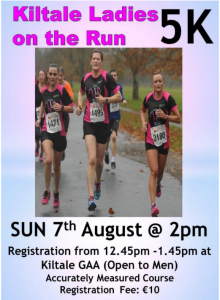 The Clubhouse is available for parties/functions – contact our new bar manager Maurice Finegan at 085 7281437 or mauricefinegan@gmail.com for bookings.
This Sunday, August 7th – The Sandman & BBQ from 4-6 in conjunction with Kiltale Ladies On The Run, who will be holding at 5km road race at 2pm. Registration will take place from 12.45pm–1.45pm. Race also open to men on an accurately measured course. Entry €10.This event is organised as a fundraising event with the majority of the funds raised being donated to Kiltale GAA as a gesture of goodwill for the use of their facilities.
This will be our only fundraising event this year and in this regard I would ask you to encourage as many of the players, supporters, families and club members to support this event which they can walk, jog, run or crawl!!
The more entries we have, the greater the contribution we will be able to make to the GAA, so we would really appreciate if the Hurling Club could promote and support our race.
There will be a BBQ and Band in the Clubhouse after the race so it should make for an entertaining afternoon!
THIS TUESDAY, 9

th 

August – a Evening of Country – Seamus Moore, Matt Leavy & Wexford Latchico-Tom Power & of course our own Cyril & Ray – Tickets €6, or two for €10 – can be purchased from Maurice 085 7281437.
Sunday 17th September – Paddy Casey, live at the Clubhouse – tickets €18. More details soon!
Come and join us for a friendly drink during the week or over the weekends, watch the sport on our brand new 66″ flatscreen TV over a drink, or hold your family function or meetings in the Clubhouse. Your support is very much appreciated and we would ask you to continue to remember to call in.  You are the Clubhouse – we need you all to support it.
 ~Don't forget to follow Kiltale Hurling & Camogie Club, and the Kiltale Clubhouse, on Facebook! ~