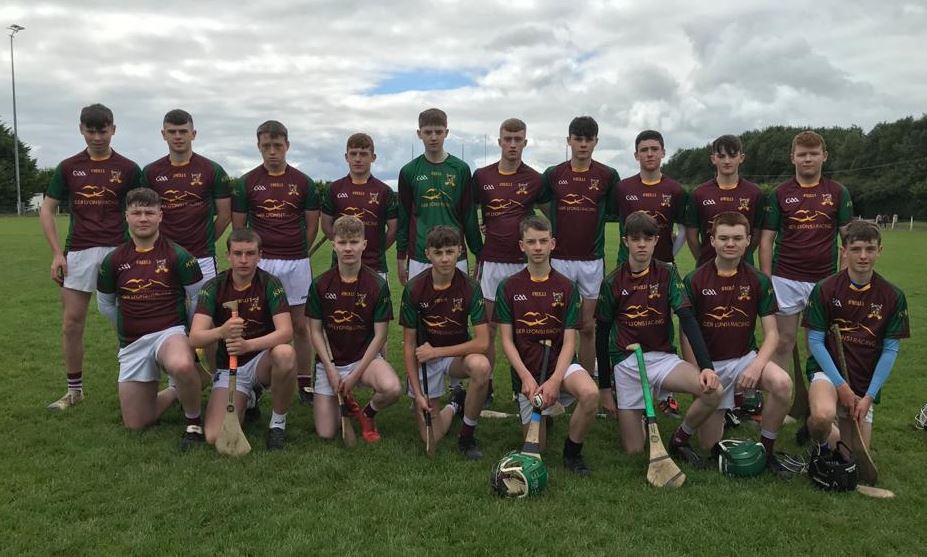 Minor Championship Div 2 Round 1
Kiltale/Boardsmill 1-15
Dunderry 2-12
Due to Dunderry's pitch being deemed unplayable this Rd 1 Minor clash was switched to Kiltale, and what a fantastic game of hurling these teams served up.
Kiltale had won the PJ Stenson trophy in 2019 and with the extra forces from Boardsmill are vying to make it two in a row.
Kiltale/Boardsmill took early command with points from Eoghan Frayne and Conor Quinn – a scoring trend from these two that was set to continue throughout the afternoon. Dunderry settled but trailed by 4 points to 2 coming up to the first water break – Sean Lynch and a Quinn free for Kiltale/Boardsmill taking the home side to their tally.
The water break was slightly later than scheduled and Dunderry took advantage with an expertly taken goal from Liam Rattigan which put the away side a point up.
Another Lynch point was followed quickly by a point from no. 11 Frayne that put Kiltale/Boardsmill ahead again briefly but an Evan Nolan point made it level soon after. Quinn and Jack Fagan traded points before the break to leave the sides level 0-07 to 1-04 at half time.
The early part of the second half belonged to the lads in black and white as they raced ahead through the excellent Evan Nolan and Fagan, Kiltale/Boardsmill responded with points from play from Frayne and midfielder Daragh McVann.
However there was a pivitol moment 10 mins into the second half when Kiltale/Boardsmill claimed Charlie McCormack was fouled but the referee waved play on and Martin Coffey took full advantage to rattle to the net putting Dunderry in control once more and they went in 4 points up at the second water break and feeling in control.
It was all set up to be a tense last quarter and so it proved, three Quinn points (2 frees) closed the gap but points from Ross O'Brien and Niall Darcy kept Dunderry in charge. At this stage Dunderry were still in control, 4 points up with 5 minutes left. A fantastic diving save to his right by Liam Boyle kept the home side in the game at this stage, cleared up by his excellent full-back Sean McKenna who was faultless all afternoon.
Kiltale/Boardsmill started to put some long balls into full forward Noah Lacey O'Dea and the tactic paid off with 3 minutes of normal time left when the ball dropped to the no.14 and he struck low to the net – one point game.
As tensions ran high Kiltale/Boardsmill were awarded a free which Frayne slotted over under pressure to tie the game, but the drama wasn't over. The referee played 7 minutes injury time, and either side could have got the winner, Dunderry got two difficult frees in this time but failed to convert.
There has been nothing between these sides since they started playing Go Games against one another some 10 years ago and again they were inseperable in this thriller today.
There will now be a toss of a coin to see who faces Wolfe Tones in the second round with the other side awaiting to play th North Meath side in the final game.
Kiltale/Boardsmill:
Kiltale/Boardsmill:Liam Boyle; Tadgh Cotter, Sean McKenna, Charlie McCormack; Senan Maher, Graig Gilsenan, Mark Flaherty; Michael Brady, Darragh McVann (0-01); Conor Quinn (0-06 3-F), Eoghan Frayne (0-06-1F), Vinny Walsh; Sean Lynch (0-02), Noah Lacey O'Dea (1-00), Liam Deegan. Subs- Ryan Daly for Deegan, Luke Gallagher for Cotter. Tom Ryan.
Subs- Ryan Daly for Deegan, Luke Gallagher for Cotter. Tom Ryan.
Dunderry scorers:
Evan Nolan 0-06; Liam Rattigan 1-00; Martin Coffey 1-00; Jack Fagan 0-02; Niall Darcy 0-02; Conor Nolan 0-01; Ross O'Brien 0-01;