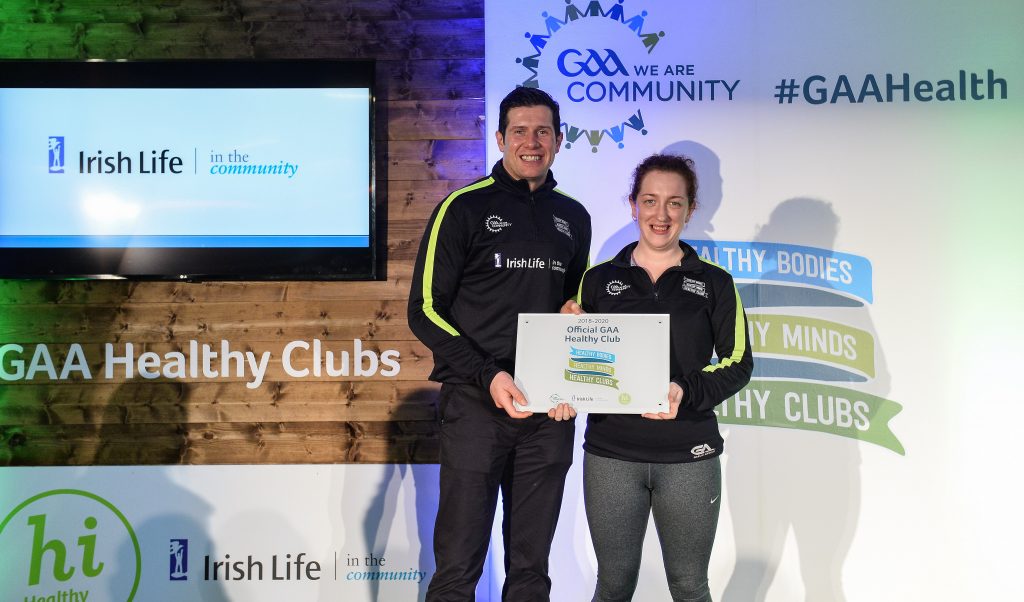 A special ceremony with governmental representation in Croke Park has seen 58 GAA clubs recognised as the first official 'Healthy Clubs' on the island of Ireland.
Twenty Leinster clubs, including Kiltale Hurling & Camogie Club, can now proudly fly a flag above their grounds (endorsed by both Healthy Ireland and the Public Health Agency in NI), letting their members and communities know that they value health and wellbeing as much as leagues and championships.
In January 2016, almost 100 clubs applied to participate in Phase 2 of the project (just 16 participated in Phase 1 between 2013-2015). Many cited the dearth of services in their communities that are tackling issues such as obesity, sedentary lifestyles, mental health and suicide. They wanted to be part of the solution.
Clubs engage with their members and community before identifying health themes upon which to focus on. Most common include healthy eating; physical activity for non-playing members; emotional wellbeing; engaging older members of the community; youth development; gambling, drug, and alcohol education; and inclusion and integration. Almost half of the clubs (29) also opted to become completely smoke-free venues as part of their 18-month journey.
Progressive GAA clubs, St Colmcilles and Kiltale are the first clubs in Meath to receive national recognition. Their various health and wellbeing initiatives have had a tremendous impact on their clubs and wider communities. Kiltale Hurling & Camogie Club's 'Operation Transformation' is a 6-week physical activity and fitness initiative aimed at increasing health awareness and helping the community to become a healthier place. It is aimed at both men and women who would like to get active, lose weight, be part of a group, tone up, improve sleep, increase energy levels, and above all have fun and enjoy the walks. Participants are offered a schedule off weekly exercise classes, confidential weigh ins to monitor progress, alongside guest speakers who support the participants on their fitness journey.
Former Tyrone football captain Seán Cavanagh is a big supporter of the GAA's Healthy Club Project (HCP) and presented the clubs with their official flag and plaque in Croke Park on Saturday, November 4th. He said "I've seen myself how the GAA brings communities together in so many different ways so it's fantastic to see the association taking a leadership role in developing healthier communities. The Healthy Clubs around the country are having a positive impact on so many children and young people and as a parent I think it is fantastic. Through this project I think people will start to appreciate the role of the GAA in our communities even more."
The innovative Healthy Club model was developed in partnership with Healthy Ireland, the HSE's health promotion division, the National Office for Suicide Prevention, and is supported by Irish Life through a CSR investment. In an era of unprecedented societal health challenges, the Healthy Club Project aims to harness the potential of the GAA club setting to deliver evidence-based health promotion information and interventions, backed up by appropriate policies and partnerships. Its potential to be replicated by other sports is currently being explored by a working group involving the FAI, IRFU, and Athletics Ireland.
Similar work is being undertaken across European sports associations, and for the past three years the GAA has contributed its learnings to the EU-wide Sports Clubs for Health project. This culminated with the GAA's Community & Health manager, Colin Regan, presenting on the Healthy Club project to a sub-committee of the EU Parliament in Brussels in April.
The Healthy Clubs project is being independently evaluated by a team from Waterford IT's Centre for Health Behaviour Research. While the final report into Phase 2 won't be available until December, the research team have already noted significant successes (see editor's notes for examples of successful interventions).
Aogán Ó Fearghail, An Uachtarán Cumann Luthchleas Gael said, "The 58 Healthy Clubs recognised today have gone above and beyond what is normally expected of a sports club. Health and wellbeing is core to what the GAA is all about and these clubs help bring that to life. I'd like to thank our partners, Healthy Ireland, the HSE, National Office for Suicide Prevention, the Public Health Agency, and Irish Life, for helping to make the Healthy Club project the success it is. We look forward to growing it from strength to strength."
Recognising the achievements of the clubs in Croke Park at the Healthy Club Recognition Event is Catherine Byrne, Minister of State for Health Promotion and the National Drugs Strategy, Department of Health (ROI). She said, "Today is all about recognition for the clubs and the volunteers who make this happen at club level. I would like to congratulate all of the clubs and volunteers involved and acknowledge the contribution that they are all making to bring the vision for Healthy Ireland to life: where everyone can enjoy physical and mental health and wellbeing to their full potential."
David Harney, CEO, Irish Life said, "Irish Life are delighted to work with the GAA on the Healthy Club initiative. The GAA, reaches into every community on the island of Ireland, and has a significant role to play in the health of the nation through its promotion of Gaelic Games. The association's Healthy Club initiative brings a new dimension to this work. It enables people to access health in an exciting new way. We believe this work has the potential to improve the future health of communities across the country."
There are numerous benefits to clubs that take part in the GAA HCP including exclusive access to Healthy Club resources and support. The independent evaluation by Waterford IT's Centre for Health Behaviour Research of Phase 1 of the HCP revealed its potential to increase membership, improvements in health promoting activities, better opportunity to link the local community with club activities and opening up new funding avenues all the while enhancing the health of the nation and ensuring a healthier future for everyone.
The GAA hope to extend the project to 150 clubs in Phase 3 (with expressions of interest to open in early 2018) before opening the project to all interested clubs in 2020. There are 1,600 clubs in Ireland and over 400 abroad.
For more information, visit: www.gaa.ie/community